Dentistry to this day use to study patient additional info and/or videos visible on screen positioned in front of doctors.
This habit does not help doctors concentration turning continously sight between the monitor and the patient.
Surgical microscopy is an essential system for dental microsurgery. Although with currently available systems, doctors can match hand-eye coordination, their eyes must be kept on the microscope fixed eyepieces for long periods, which requires them to mantain uncomfortable postures that can cause musculoskeletal disorders.
Real time transfer of camera images directly to doctor's eyes, it optimizes the process and solves many of the above issues.
Nothing new: hospital surgery has already introduced the Head-Mounted Display (in association with AR/VR/robotic) and it is a growing technique achieving great results (for example removing brain tumors in neurosurgery it was not possible before).
ESACAM & FALKO
- THE PERFECT MATCH -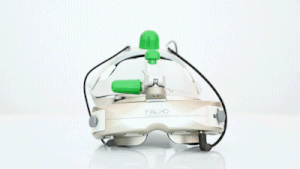 Tecnomed aimed to introduce high standard hospital methods also in Dental Practise. Falko it is designed to receive ESACAM files (and more….to know whatelse they can do together please stay tuned).

FALKO is the head-mounted display (HMD) innovation – studied and designed by Tecnomed Italia for medical practices – installed on a head support with "flip-up" system.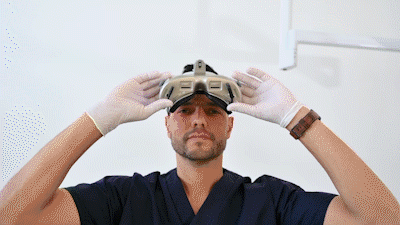 FALKO is a high definition medical goggles sharing live images while practising mini-invasive surgical procedures and it also fits in dental surgical room, clinics and hospitals.
Esacam projection is connected in real time with FALKO; camera works at 60 fps and at minimum speed of 5 ms processing (much less from standard wireless goggles) EsaCam remote control functions (zoom, diaphragm, brightness, light on/off) are also activated from the goggles.
With FALKO it is possible to consult the patient file by quickly switching from the camera to the surgery management PC.
And these are just few tips… stay tuned.
Talking with specialist doctors of various branches of medicine, we better understood their needs.
This is why we decided to extend the application of FALKO to other medical devices as well.

FALKO, thus, enhances, without replacing, the equipment to which it is connected.
FALKO provides a new flexible ecosystem.
With FALKO, we raise the bar in terms of the precision, quality and safety of medical procedures, while safeguarding your workplace well-being and health.

FALKO enhances the use of equipment such as:
– Operating microscopes
– Intra-oral cameras
– 3D scanners
– Surgical lamps with built-in cameras
– Dynamic 3D navigation system
FALKO benefits – media medical vision – they go beyond functional or surgical side, telemedicine and training, with the possibility to attend remotly thanks to this Tecnomed Italia system developed together with doctors from Digital Dentistry known worlwide.
FALKO'S WORLD REGISTERED PATENT: 102022000007703 – 102022000007700
See you soon with
FALKO
updates