FALKO:
How it looks, how to wear and install it.
In this new video we'll see what FALKO looks like, how it should be worn and how it interfaces with any PC in the dental practice.
FALKO is composed of:
– Digital signal transmission unit
– Headgear
– Visor unit
– Battery Packs.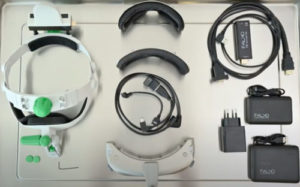 The loupes created for Falko feature the same anatomical design as the Univet loupes currently available on the market. The device is comfortable and ensures excellent stability of the vision system. Above all, it ensures an even distribution of weight over the entire head.
IMMERSIVE OR PERIPHERAL VISION?
Now let's talk about the visor, and I will particularly refer to immersive vision or peripheral vision. If you want to work in immersive vision, two masks are provided. Let us see with Matteo how to choose the mask. There are two sizes, these sizes must be tailored to one's face and the size that best fits one's face is the correct one.
Once chosen, I will attach the mask to the visor, in this way I will work in immersive vision, i.e. without external stimuli and concentrating 100% on the operation site.
If, on the other hand, you want to work and maintain peripheral vision, masks should not be used. Without a mask I can work while maintaining peripheral vision at all times and only by raising my eyes will I have a 30X view of, for example, the operation area. Initially, we recommend working in this way.
From minute 02: 1O of the video we will see in detail how to assemble the headgear to the visor and how to install the transmitter to the PC.
Enjoy the movie!
See you soon with
FALKO
updates!