Not just furniture: a versatile and ergonomic line, designed entirely on wheels
Every professional has different operational needs, which require an environment that is functional but, at the same time, welcoming for patients that ensures they benefit from a visual impact that improves the quality of their dental practice experience. 
With the new Handy Surgery – Soft Line concept, dynamism and order are assured: the mobile elements allow maximum organisation and flexibility, actually adapting to each and every practice with a range of possible options.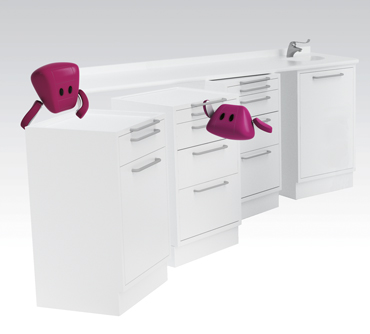 The furniture units are made of zinc-electroplated metal sheet (RAL9010 colour) that is uniform and robust thanks to a 10/10 thickness. The fronts of all the components and handles are painted with antibacterial epoxy powders.
With the countless variations and functionalities of Soft Line furniture, we design the perfect furniture solution alongside the medical professional, adapting it to the spaces available: the modularity and organisation of the space are also designed to meet the clinical needs and those of the patient.