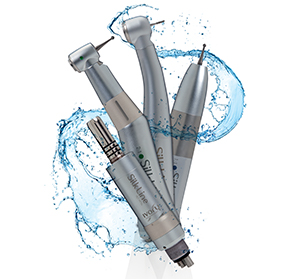 The Ivory Mechanikkonzept was born thanks to the idea of a team of professionals with more than 30 years of experience in dental sector who, tired of facing high costs of management, training and infrastructure, decided to "make the dental world easier and effective".
Thanks to the large number of articles like turbines, contra-angle, straight handpieces, air micromotors, pneumatic scaler, air-flow handpieces, you can choose exactly the right solution for all your needs and maximise the versatility of your instruments to match the nature of each operation. Perfect balance and lightweight but robust materials minimise noise. All doctors to enhance their professionalism thanks to comfortable and ergonomic products designed for maximum technical efficiency and manufactured to the highest quality standards.
Dental ultrasonic scalers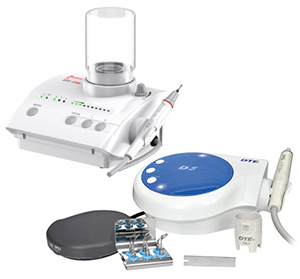 Tecnomed Italia offers a wide range of high quality scalers and instruments dedicated to oral hygiene. At the discretion, the professional can opt for:
– dental unit scalers (built-in), with or without optical fiber, are the ideal equipment for those who prefer the instrument directly on the quiver of their dental unit;
– bench scalers, which can be connected to the water supply (without dispenser) or totally autonomous (with dispenser).
Each specialist can therefore choose the most suitable tool to be included in his or her office according to their needs, to ensure cutting-edge professional dental hygiene for their patients, carrying out any clinical application. In addition to scalers, Tecnomed offers a wide range of high quality accessories. The inserts, which allow the perfect transmission of ultrasounds, are compatible with the main manufacturers of scalers on the market and are made with materials of excellent quality, to offer greater resistance and durability over time.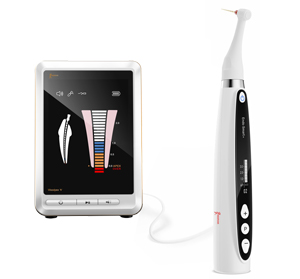 Endo-Smart is a high-performance cordless endodontic micromotor. It features a screen whose angular view improves the overall view. In addition, it offers 9 work programmes that allow you to adjust the speed and torque.
The Woodpex III is one of the latest and most advanced models for the diagnosis and localisation of root canals, replacing the proven Woodpex III model, its improved properties make it the best companion for the endodontist with a great balance between price and performance.