New Tecnomed website and services
Innovative solutions designed to meet the needs of professionals in the medical and aesthetic sector provided by Tecnomed. The company has thought of a complete restyling of the website by incorporating services and machinery that could reach more and more professionals in the world.
An intuitive, orderly and professional website: the ease in scrolling through the categories accompanies the user through all the services that the company offers with accurate descriptions aimed at detail.

Between the lines you can find:
– Surgical Line
– Dental Line
– Aesthetic – Podiatry Line
– Veterinary Line
There is also a section dedicated to equipment and spare parts, with an e-shop with over 3,000 products.
Taking a tour of the new Tecnomed website, the area dedicated to configurators does not go unnoticed. In fact, the company takes care of creating complete customizable and adaptable studies to any modern reality: a highly sophisticated solution to have something unique of its kind but always with an eye to technology, professionalism and budget.
Why a new Tecnomed website?
Luca Riccardi, founder of Tecnomed Italia srl, explains it to us.
«The question posed by users has only one answer: to satisfy all the needs and requests of professionals in the sector. Today more than ever it is essential to have a rich online showcase to reach people while they are in their studio and do not have the possibility to move to reach the various physical centers. A way to have everything at your fingertips, select the solutions suited to your needs and also get to know the team that works behind Tecnomed Italia, a company that has been on the market for over 30 years ».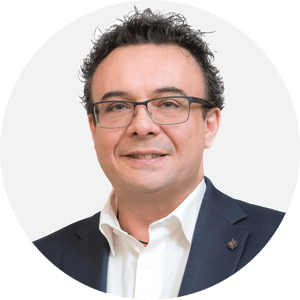 Luca Riccardi, General Manager Tecnomed Italia srl