Steril Fan: pure and sterile air 24 hour a day
The Steril Fan line includes biological air treatment equipment, ensuring the elimination of all pathogens such as bacteria, viruses, fungi and molds present in the air.

Thanks to the internal UVC lamps, each equipment is able to guarantee constant treatment of the rooms.
The air is conveyed into a special chamber inside the device which, by irradiation, drastically reduces the microbial load present in the air.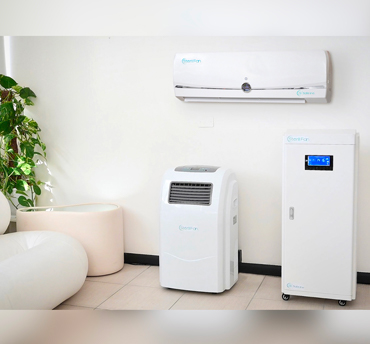 Being able to operate continuously 24 hours a day, even in the presence of people, it allows you to keep the microbial load of the air always at controlled and safe levels.
In addition, it should be noted that, with each passage of air inside the germicidal chamber, decontamination from bacteria takes on values greater than 99.99%.
The Steril Fan range offers 4 models, suitable for spaces from 30 to 60 m2 and with different types of installation.
| Code | SFA2060P | SFA2030F | SFA2045F | SFA2060T |
| --- | --- | --- | --- | --- |
| Capacity | 1500 m3/h | 800 m3/h | 1200 m3/h | 1500 m3/h |
| Room Coverage | 60 m2 | 30 m2 | 45 m2 | 60 m2 |
| Room Coverage m3 | 180 m3 | 90 m3 | 135 m3 | 180 m3 |
| Maximum Power | 170 Watt | 95 Watt | 120 Watt | 270 Watt |
| Main dust filter | Yes | Yes | Yes | Yes |
| ESP electrostatic filter | No | No | No | Yes |
| Air quality sensor | No | No | No | Yes |
| Coals filter | Yes | No | No | No |
| Photocatalytic Filter TiO2 | Quadruple | Single | Single | No |
| UVC lamp | 2 x 13 Watt + 2 x10 Watt | 1 x 20 Watt | 1 x 20 Watt | 2 x 15 Watt |
| UVC wavelength nm | 253.7 | 253.7 | 253.7 | 253.7 |
| Hepa filter | No | No | No | Yes – E11 |
| Recirculation speed | 3 speeds | 3 speeds | 3 speeds | 3 speeds |
| Noise db max | ≤ 55 db | ≤ 55 db | ≤ 55 db | ≤ 65 db |
| Operation | Manual – Programmable | Manual – Programmable | Manual – Programmable | Manual – Programmable |
| Remote control | Yes | Yes | Yes | Yes |
| Critical operation alarm | Yes – 2 alarms | Yes – 3 alarms | Yes – 3 alarms | Yes – 3 alarms |
| Lamp life | 12000 hours (about 4 years) | 12000 hours (about 4 years) | 12000 hours (about 4 years) | 12000 hours (about 4 years) |
| External emission μvc to 1 cm | ≤ 5 μw/cm2 | ≤ 5 μw/cm2 | ≤ 5 μw/cm2 | ≤ 5 μw/cm2 |
| Microbiological killing | 99.90% | 99.90% | 99.90% | 99.90% |
| Ozone emission | ≤ 0.1mg/m3 | 0.003 mg/m3 | 0.003 mg/m3 | 0.009 mg/m3 |
| Weight | 23 kg | 11 kg | 11 kg | 75 kg |
| Dimensions (lxpxh) | 550 x 420 x 850 mm | 1000 x 330 x 200 mm | 1000 x 330 x 200 mm | 460 x 350 x1100 mm |