Tecnomed Italia's Sterinox sterilization line has been designed to guarantee maximum professionalism and cleanliness.
The stainless steel furniture series, synonymous with cleanliness, linearity and strength, is designed to bring together all the equipment and instruments necessary for the sterilization process without creating any hindrance or obstruction.
Sterinox is a series of top-of-the-range products aimed at dental surgery clinics, but also suitable for ordinary dental clinics requiring utmost sterilization safety.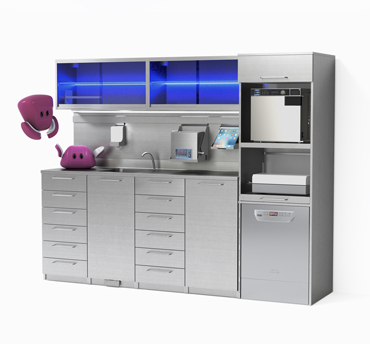 Just as Chirunox operating theatre furnishings, Sterilnox sterilization room elements are also completely modular, with countless variations and functionalities available.
The Tecnomed Italia team creates, together with the customer, smart and modern designs for the very best solution according to operational needs and available space.
Designed to accommodate all the equipment needed for sterilization and ensure maximum order, the most innovative feature of this module is the height of the worktop. Tecnomed designed the top at a greater height (1020 mm), in order to promote a correct posture for the operator performing the sterilization process: working standing, in fact, a greater height prevents the operator from taking wrong postures. It is however possible to choose a standard height worktop (900 mm).