Medical Media Vision
FALKO
FALKO
Oggi il tema della salute degli operatori sanitari è al centro di numerosi studi e di specifici protocolli definiti sulla base degli ambiti lavorativi e delle tipologie di disagi. Recentemente in Gran Bretagna sono stati inviati 130 questionari anonimi a chirurghi di diverse discipline. Di questi, quasi l'80% ha descritto dolori muscoloscheletrici regolarmente!!!
I disagi muscoloscheletrici sono principalmente la conseguenza della posizione "obbligata" del chirurgo rispetto al controllo del trinomio paziente - strumenti - monitor. 
Anche le posizioni assunte dallo staff sono generalmente tese a una migliore visione dell'ambito dell'intervento, che deriva dalla prossimità fisica con il paziente e da una visione diretta dell'ambito operativo. Questa posizione inclinata assunta dallo staff si traduce in un aumento degli sforzi muscolari per bilanciare la parte superiore del corpo e in contrazioni dei muscoli lombari.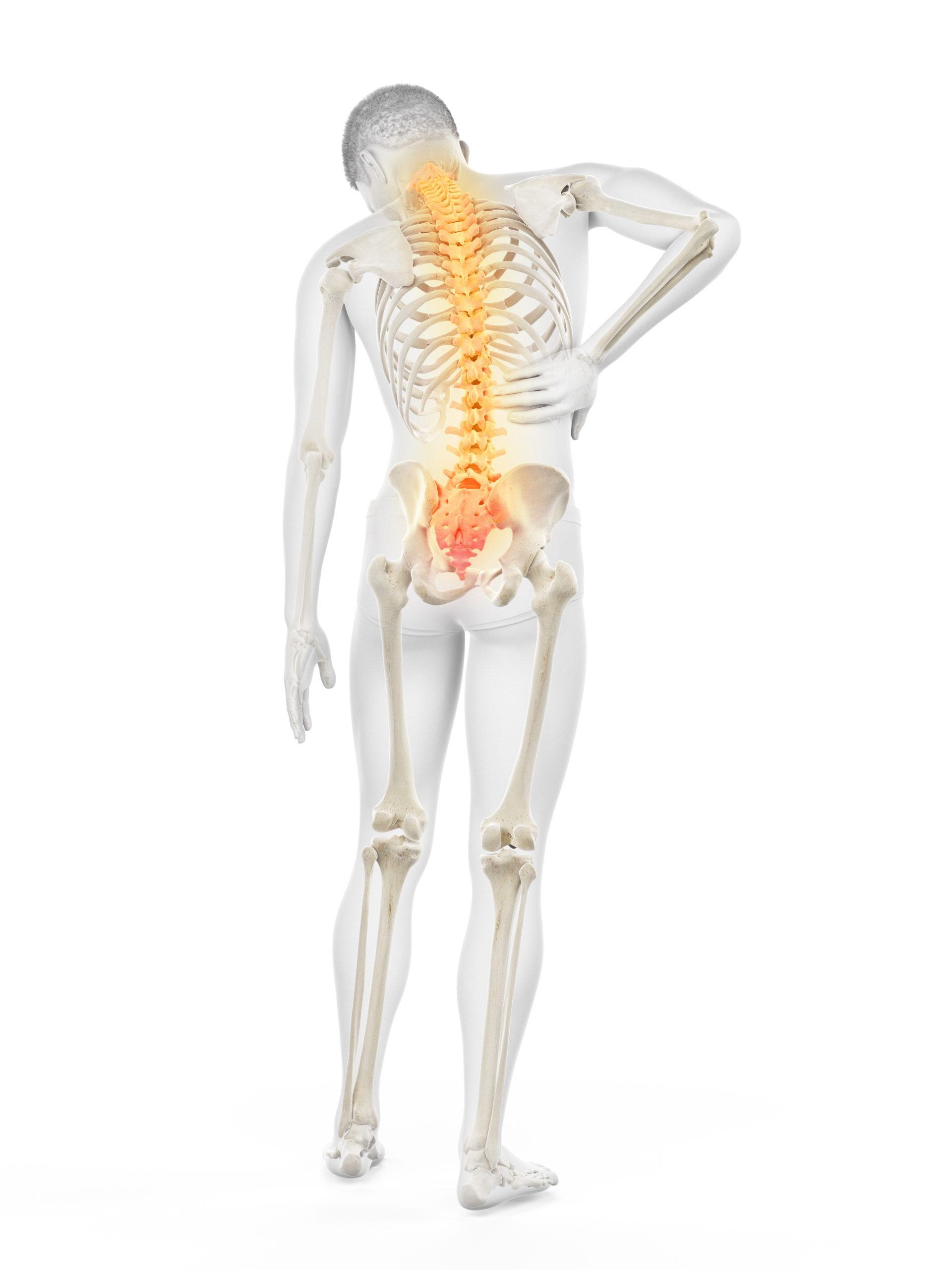 Studi clinici dell'ultimo decennio hanno più volte confermato che l'utilizzo del visore HMD, che permette di visualizzare l'immagine prodotta dal Dispositivo Medico direttamente negli occhi del chirurgo in tempo reale, ottimizza i tempi, risolve le problematiche di cui sopra e non solo.
Il visore HMD
FALKO
FALKO è l'innovativo Head-Mounted Display brevettato* , ideato da Tecnomed Italia per il mondo medicale.  FALKO consente di visualizzare le immagini, provenienti da apparecchiature di imaging medicale, senza distogliere lo sguardo dal paziente e garantisce una coordinazione occhio-mano ottimale. Il sistema FALKO è un Dispositivo Medico , adatto per l'uso in sale operatorie ospedaliere, centri chirurgici, cliniche. 
 *Brevetti depositati: N. 102022000007703  | N. 102022000007700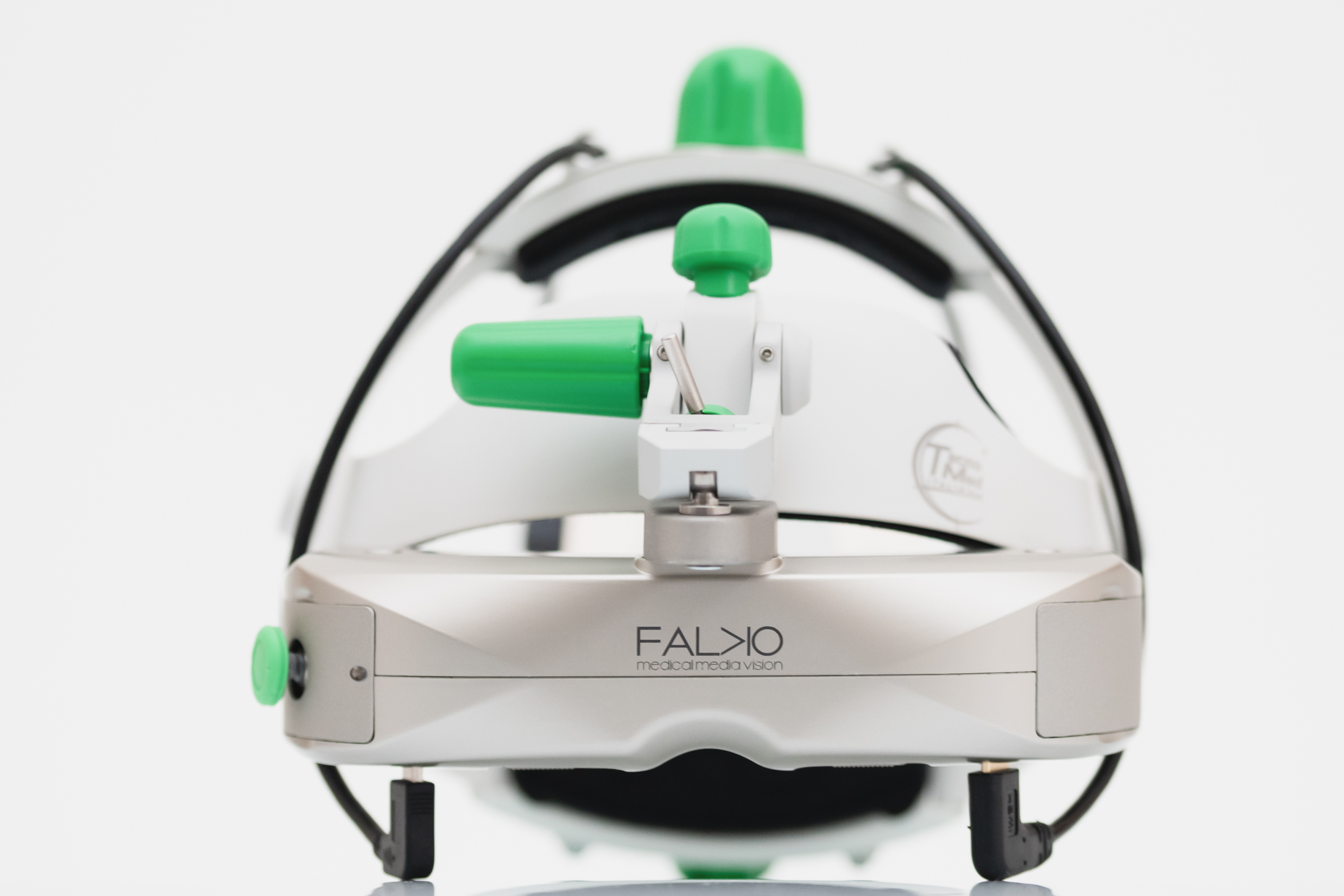 Controller regolazione diottrica
Controller regolazione interpupillare
FALKO offre una visione binoculare ad alta definizione con regolazione della messa a fuoco ed inter pupillare. I due schermi OLED e le lenti asferiche hanno un effetto di tipo autostereoscopico simile, ma non uguale, all'effetto stereoscopico reale. I doppi pannelli OLED all'interno di FALKO offrono a latenza zero immagini di HD nitide, ad alto contrasto, per un'esperienza di visione fluida e naturale. 
Il professionista può guardare liberamente verso il basso mentre indossa FALKO, guardando senza ostacoli le proprie mani e la zona che sta operando.
Anche in caso di malfunzionamento del display, la visione diretta verso il basso consente al chirurgo di continuare l'operazione in totale sicurezza.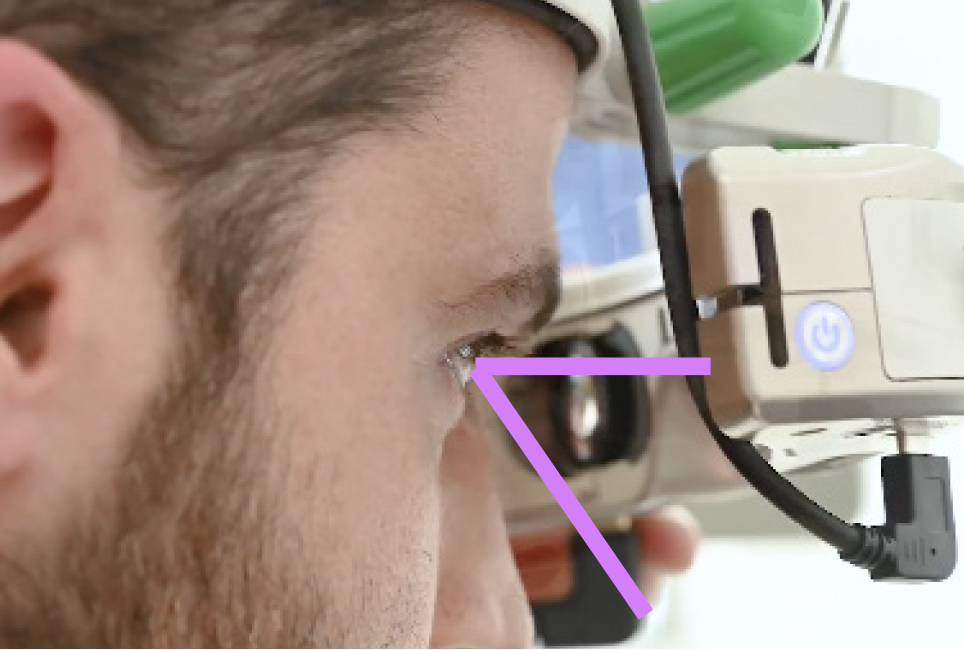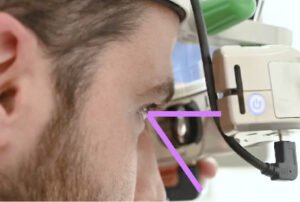 FALKO possiede regolazione ergonomica , interpupillare e diottrica che possono essere variate a piacere dal medico per adattarsi perfettamente alle proprie esigenze, garantendo comfort visivo e posturale.
Come
Funziona?
FALKO è un sistema aperto, potenzia l'apparecchiatura con la quale si connette andando di fatto a definire un nuovo ecosistema flessibile e alzando il livello in termini di precisione, qualità e sicurezza delle procedure mediche. Il processo di trasferimento delle immagini sul visore è in real time con latenza minore di 5 ms; nettamente inferiore allo standard dei visori wireless che parla di lavoro in real time con una latenza di 50 ms.
Con FALKO il Professionista non deve più distogliere lo sguardo dal sito chirurgico per visualizzare le immagini provenenti dalle apparecchiature di imaging medicale, o per consultare i parametri o la cartella clinica del paziente.
FALKO NON CAMBIA IL MODO DI LAVORARE, MA NE CAMBIA LA QUALITÀ!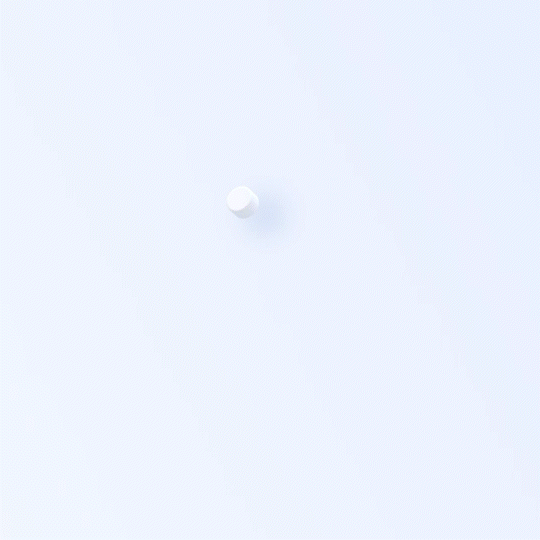 Sistema
OMNICHANNEL
Con FALKO il Professionista non deve più distogliere lo sguardo dal sito chirurgico per visualizzare le immagini provenenti dalle apparecchiature di imaging medicale, o per consultare i parametri o la cartella clinica del paziente.
Con il sistema FALKO è possibile condividere ciò che il Professionista visualizza sul visore durante l'intervento e, installando la microcamera OKKIO (optional) direttamente sul visore FALKO, è possibile condividere anche il punto di vista del medico.
Queste informazioni, grazie al software in dotazione, possono essere condivise con un massimo di 300 partecipanti. L'ideale per chi fa formazione medica.
Prof. Fernando Zarone, professore ordinario e primario del reparto di Protesi Dentaria dell'Università "Federico II" di Napoli, parla dei vantaggi tecnici e clinici dell'head mounted display FALKO.
Vuoi avere maggiori informazioni su FALKO?
Moduli di
COMANDO
I moduli permettono di gestire via Wireless le apparecchiature le informazioni video delle apparecchiature presenti in studio.
Il sistema di trasmissione e ricezione wireless di FALKO supporta un segnale video senza latenza.
Non è necessaria alcuna impostazione IP, non è necessaria una rete internet.
Software
Incluso
Con FALKO è incluso il software ArchiMED Suite; una soluzione tecnologicamente intelligente (quindi semplice nell'utilizzo) e unica nell'ambito della software imaging, cartella paziente e Telecooperazione sanitaria.
Non è "solo un Software", ma un valore aggiunto per il Professionista e il suo Team; consente una semplice gestione delle immagini e un'ampia gamma di funzioni "intelligenti" integrate, utili per migliorare le capacità visive e diagnostiche, rendere smart il flusso di lavoro e la comunicazione, grazie alla possibilità di fare videochiamate e Telecooperazione sanitaria.
È progettato per lavorare in modalità Terminal Server; questa tecnologia consente di accedere al programma ovunque e in totale sicurezza.
Workflow di livello superiore
FALKONNECT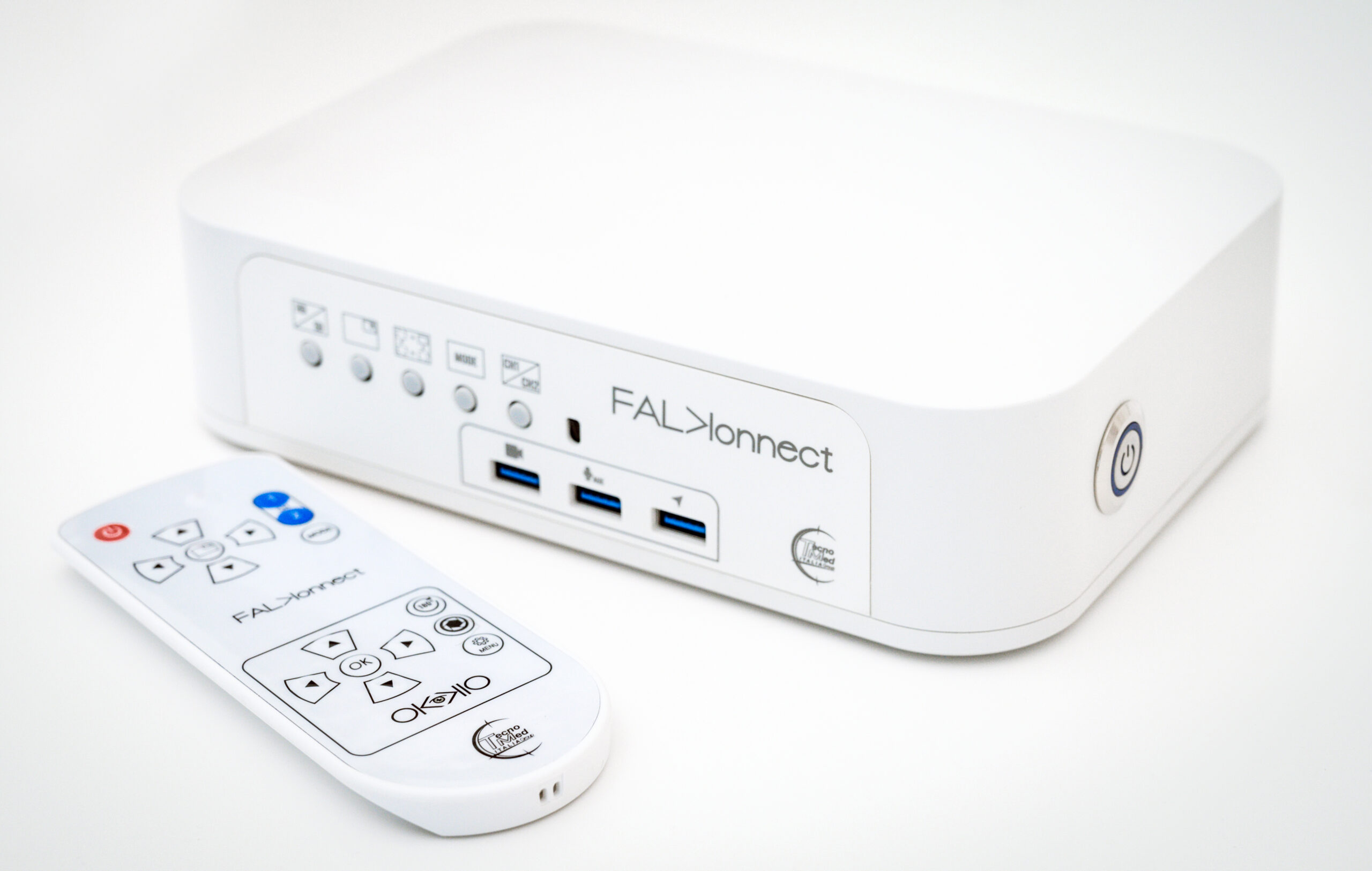 Durante gli interventi il medico chirurgo ha bisogno di avere sott'occhio tutta una serie di informazioni in tempo reale, finora messe a disposizione tramite diversi monitor. Il problema principale derivante dall'attuale metodo di visualizzazione risiede nel fatto che costringe il professionista a spostare la testa e distogliere lo sguardo dal paziente; questo inevitabilmente interrompe la concentrazione su quello che sta facendo e costringe i suoi occhi ad un lavoro continuo di messa a fuoco tra monitor e paziente.
Per questo, Tecnomed Italia ha sviluppato FALKONNECT: una stazione multimediale con un sistema aperto che valorizza tutti i dispositivi e consente di gestire, visualizzare, registrare e archiviare informazioni video provenienti da qualsiasi apparecchiatura di imaging medicale.
FALKONNECT permette di gestire e inviare al visore FALKO, in modalità side by side, due informazioni video provenienti da due sistemi di imaging, andando quindi ad eliminare le criticità di cui sopra e a migliorare la precisione dell'intervento chirurgico.
A giovare di questo sistema non è solo il lavoro del Medico Chirurgo, ma anche quello dell'Assistente che riveste un ruolo centrale in tutti gli interventi complessi. 
Tutto questo e molto altro è FALKONNECT: una tecnologia complessa studiata per semplificare la vita ai medici professionisti.
FALKONNECT apre una serie infinite di possibilità. Permette, ad esempio, di switchare due informazioni visive o di visualizzarle in diversi formati picture-in-picture o side-by-side, di collegare due caschetti HMD FALKO e di triplicare il desktop del PC. Inoltre, grazie al software dedicato, FALKONNECT consente di avviare la telecooperazione sanitaria in realtà aumentata per richiedere l'assistenza a uno o più colleghi a distanza o per effettuare corsi educational fino a 300 discenti.
FALKONNECT è particolarmente utile per risolvere il disagio posturale e il dolore agli occhi che gli odontoiatri possono sperimentare durante le procedure chirurgiche. L'uso di questo prodotto, interfacciato con il nostro caschetto FALKO e il microscopio, elimina il problema posturale. Non solo! Questa tecnologia evita il continuo adattamento dell'occhio al cambiamento della luce microscopio/ambiente e permette di lavorare sull'arcata superiore o sul palato senza assumere
posizioni scomode, eliminando così la visione indiretta.
Con FALKONNECT, Tecnomed Italia ha pensato anche alla gestione delle multi-informazioni video.
È noto che l'uso di monitor posizionati distanti dall'operatore o troppo vicini durante le procedure possa causare intralci o abbassare il fattore igienico del sito di intervento. Inoltre, il movimento della testa tra il campo di lavoro e i monitor del PC può confondere l'operatore nel coordinare più informazioni visive. L'utilizzo del sistema FALKO interfacciato con la stazione multimediale FALKONNECT consente di avere sempre tutto sotto controllo, alzando semplicemente gli occhi. 
Lavoro
di squadra
Sempre più medici si stanno rendendo conto che la capacità di lavorare in simbiosi può ampliare l'orizzonte di ciò che è possibile in chirurgia.
La cosa più vantaggiosa indossando il visore HMD FALKO è che il chirurgo non è costretto a distogliere lo sguardo dal sito chirurgico, a differenza delle comuni tecniche di imaging, e con un secondo visore FALKO collegato a FALKONNECT indossato dall'altro membro dello staff, è possibile vedere finalmente anche da un altro punto di vista.
È possibile infatti collegare un secondo FALKO; con la doppia configurazione anche i chirurghi assistenti possono ora scegliere una posizione di lavoro ergonomica e godere della stessa visione di alta qualità dell'area di intervento. Inoltre l'assistente che indossa il secondo FALKO può vedere, oltre alla propria prospettiva naturale del proprio campo operatorio ripreso con una seconda fonte video (come ad esempio la nostra telecamera OKKIO), anche ciò che vede esattamente il chirurgo principale.
A sua volta, il chirurgo principale, può vedere ciò che vede l'assistente operatore dalla prospettiva  l'assistente.
L'intera équipe chirurgica può essere coinvolta e può seguire l'intervento con la stessa qualità di immagini del chirurgo, migliorando quindi il processo operativo.
Ideale per il lavoro di squadra efficiente e per scopi di formazione!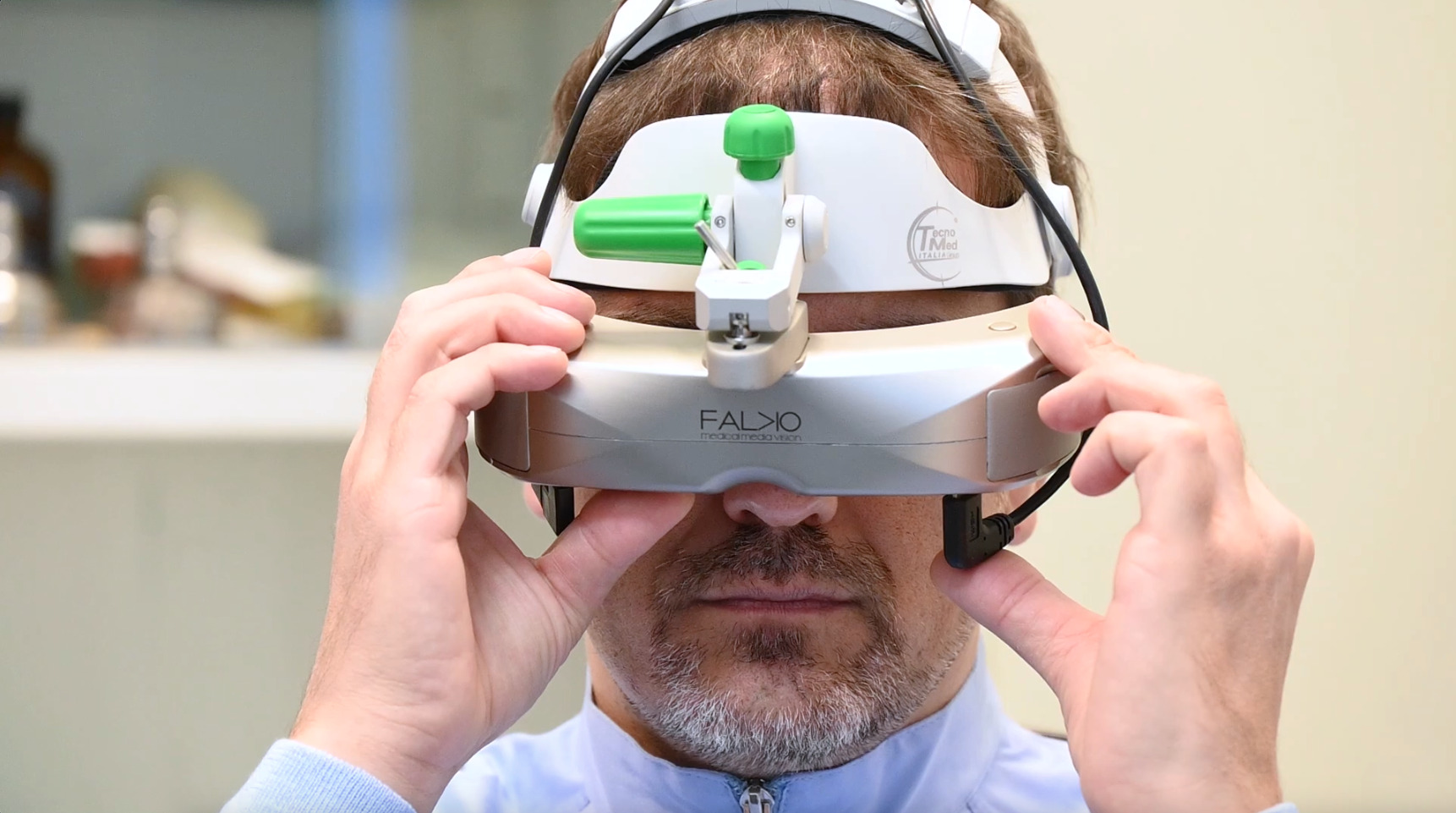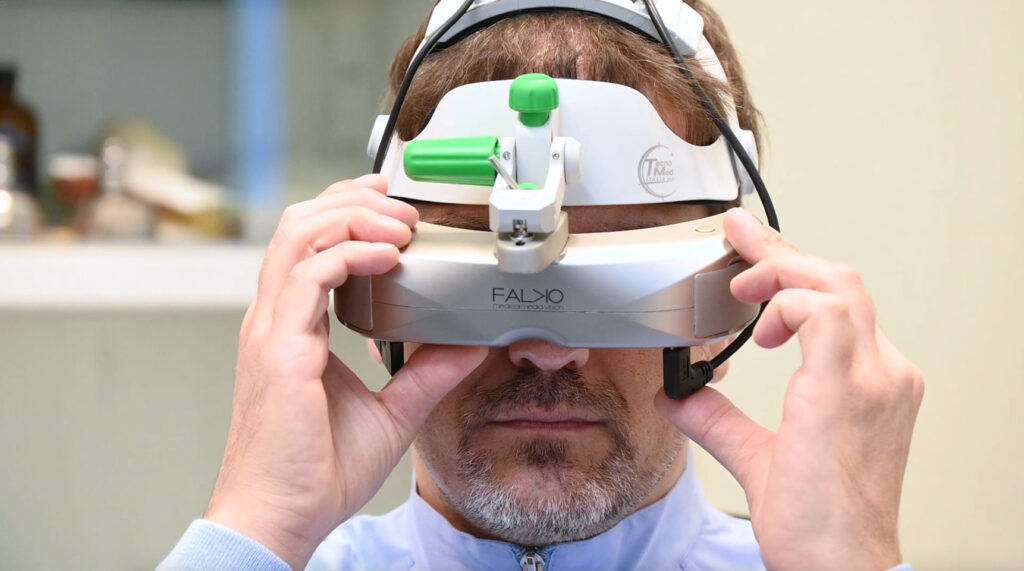 Telecamera 4k medicale
OKKIO
OKKIO è la nuova fotocamera intelligente 4K che è stata sviluppata per offrire un'esperienza senza precedenti nella documentazione e nella comunicazione in campo medico-dentistico.
Grazie alla sua tecnologia innovativa, con la semplice pressione del pedale wireless e attraverso il software di immaging dedicato, la telecamera OKKIO è in grado di acquisire e condividere, in qualsiasi momento durante l'intervento, video e immagini di altissima qualità.
La fotocamera OKKIO è dotata di un potente sensore Sony IMX415, che assicura un'eccezionale qualità dell'immagine e un autofocus rapido e preciso, rendendo la registrazione e la documentazione più semplice che mai. Qualità, innovazione, condivisione e semplicità di utilizzo.
Queste le parole che meglio descrivono il nostro prodotto!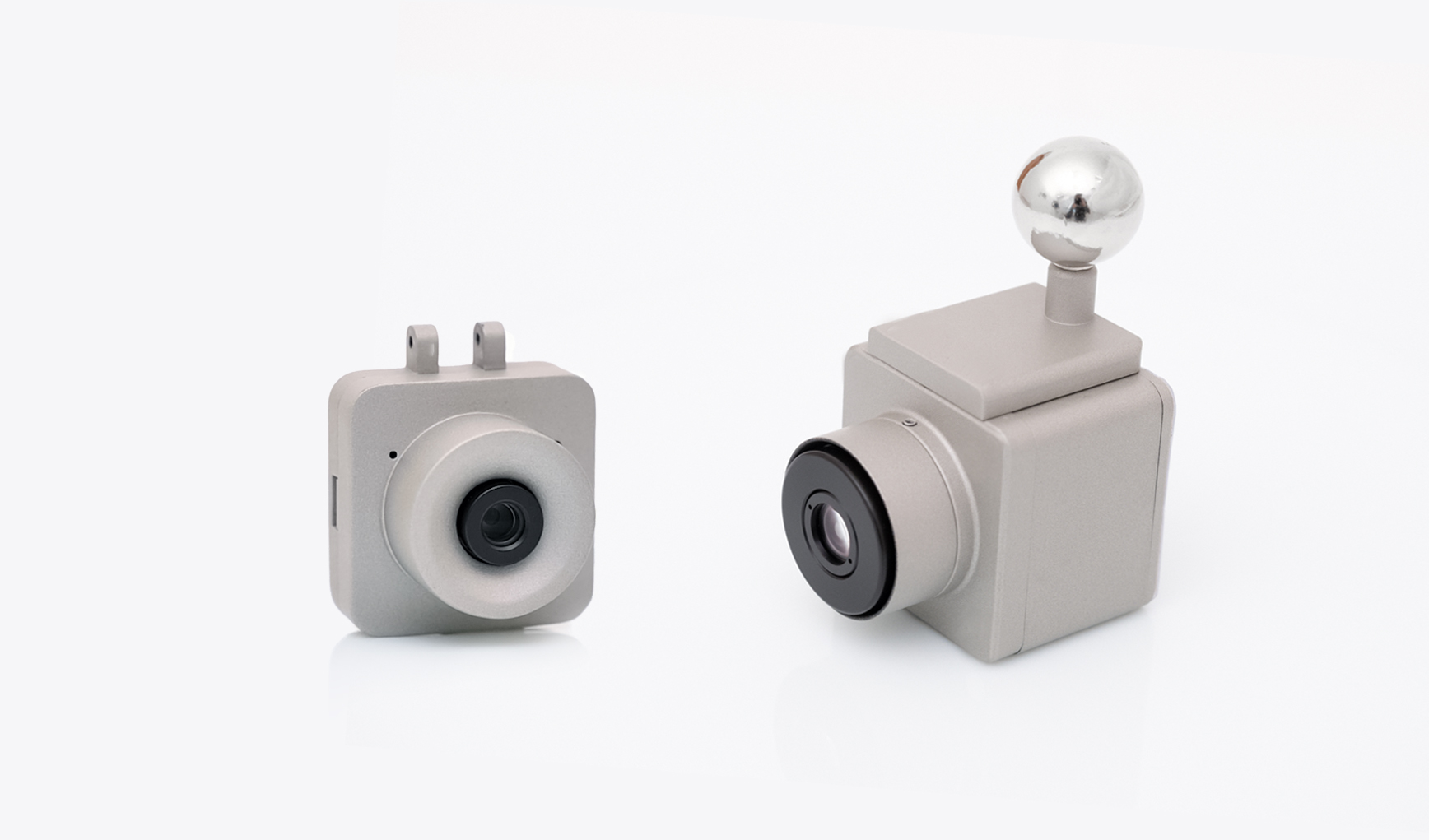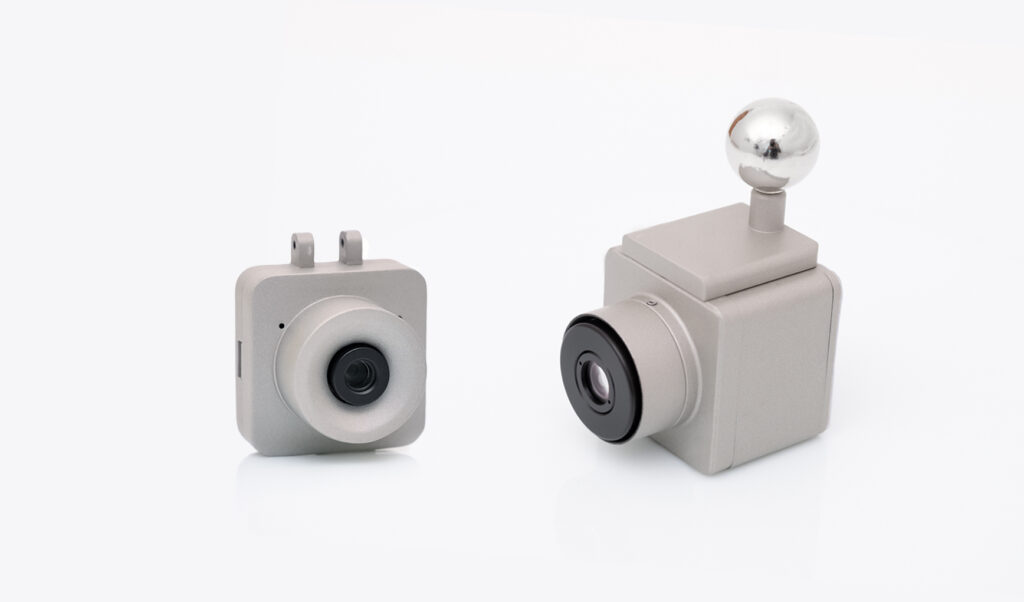 Ciò che distingue OKKIO è la possibilità di applicarla ovunque grazie alle sue dimensioni, alla leggerezza e alle molteplici possibilità opzioni di installazione. Certo, il massimo sarebbe installata sul nostro visore FALKO in modo da avere un'esperienza unica e completa, oltre a condividere il proprio punto di vista con i colleghi e acquisire immagini o video senza interruzioni e senza ostacoli. Ma, ad esempio, è possibile montare la fotocamera OKKIO anche sulla lampada del riunito o su un braccio a quattro snodi ancorato al poggiatesta del riunito, in modo da garantire una posizione ideale per catturare immagini e video.
Le possibilità che OKKIO offre sono molteplici. I medici potranno immediatamente condividere le informazioni multimediali con altri specialisti, con gli studenti o come prima visita con i pazienti. La condivisione è semplice e intuitiva, tramite PC o smartphone. Questa fotocamera rende possibile anche effettuare dirette streaming e webinar mentre si sta lavorando su un paziente. E questa è una vera rivoluzione! Per non parlare dell'importanza di avere un archivio fotografico preciso, dettagliato e di qualità.
Per utilizzare OKKIO non bisogna essere degli esperti di tecnologia, riprese o montaggio. Questa telecamera  è progettata per fare tutto con semplicità e rendere al medico la vita più facile. Le foto e i video potranno essere salvate, riviste e condivise in qualsiasi momento. Inoltrare i report ai colleghi per un confronto o mostrare al paziente il "prima e dopo" sarà un gioco da ragazzi.
Modello


OKKIO
HDMI

Sensore
SONY IMX415
SONY IMX377
Risoluzione
4K 30fps | 1080p 30fps | 720p 30fps | 8MP
2160 P30-25-24fps | 1080 P60-50-30-25fps |
1080 i60-50fps | 720 P60-50fps
Dimensioni
45x45x25 mm
50x50x50mm
Lente
4K (UHD) da 16-25 mm
4K (UHD) da 16-25 mm
Messa a fuoco
Automatico e manuale (Software)
Manuale
Zoom digitale
No
10X
Opzioni installazione
Caschetto FALKO , lampada, braccio articolato
Braccio articolato
Microfono
Sì
No
Connessione
USB 2.0
HDMI
Esposizione
Manuale/automatica
Manuale
Alimentazione
Non necessaria
Adattatore data /hdmi / 12vdc
Certificazione
MDR 2017/745 Classe I
MDR 2017/745 Classe I
HEAD-TRACKING MOUSE
Usiamo.... la testa!
In ogni ambiente medico la pulizia è un dettaglio fondamentale che non può essere trascurato. Le tastiere e i mouse che tutti conosciamo sono difficilmente disinfettabili e possono essere veicoli di propagazione di virus e batteri.  Avvolgere nel cellofan questi oggetti è un palliativo, ma rimane la scomodità della base di appoggio e la lentezza di esecuzione mentre si sta operando. 
Tecnomed Italia ha studiato una soluzione definitiva e smart. Da oggi è possibile dotare il nostro visore FALKO del sistema HEAD TRACKING MOUSE.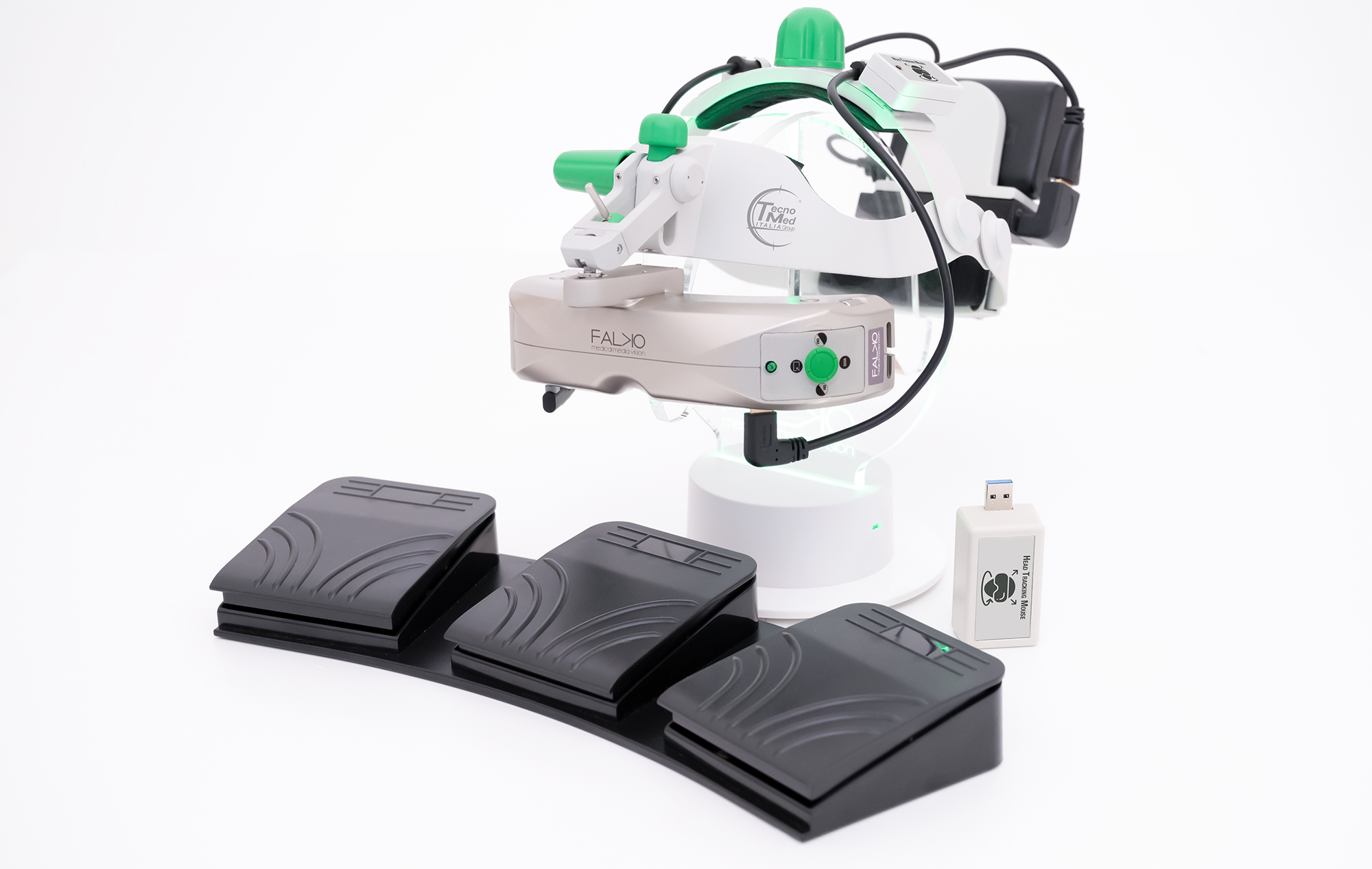 Head Tracking Mouse Wireless è un mouse con cursore gestito semplicemente dal movimento della testa e da una pedaliera wireless. Grazie a questa implementazione sarà possibile interagire con il Personal Computer durante l'intervento, senza utilizzare le mani. Un'innovazione che semplifica e migliora il lavoro dei medici professionisti. Con i movimenti della testa sarà facile muovere il cursore del PC, mentre con i pedali verrà replicato il click del pulsante destro e sinistro del mouse.
Inoltre, utilizzando il microfono delle nostre telecamere OKKIO USB o ESACAM sarà possibile dettare al vostro PC parole e testi. Basterà pigiare il terzo pedale per attivare il riconoscimento vocale. Potrete così compilare la cartella paziente, fare annotazioni e rapporti utilizzando la funzione dettatura, in maniera rapida, semplice e completa.
I programmi di riconoscimento vocale computerizzati consentono infatti di inserire i dati nella cartella del paziente in modo molto veloce ed efficiente. Sul visore FALKO apparirà subito il testo dettato, per correggere eventuali (e rare) inesattezze.

In sintesi, ecco i vantaggi del nostro HEAD TRACKING MOUSE:
- Elimina il mouse e la tastiera e preserva l'igiene dell'ambiente.
- Offre ai medici la libertà di navigare in tutte le cartelle e i file del PC e apportare modifiche senza l'uso delle mani.
- Riduce del 80% il tempo speso per le annotazioni cliniche.
- Introduce la dettatura come sistema per descrivere la visita direttamente nella cartella clinica del paziente.
- Permette di scattare foto durante l'intervento o di richiamare file di imaging del pc inerenti al paziente in cura.
- Semplifica il processo di documentazione dell'assistente.
- Migliora la qualità della documentazione sanitaria.

Affidarsi all'ecosistema Tecnomed Italia, significa muoversi tra varie apparecchiature medicali tecnologiche che comunicano tra loro parlando la stessa lingua!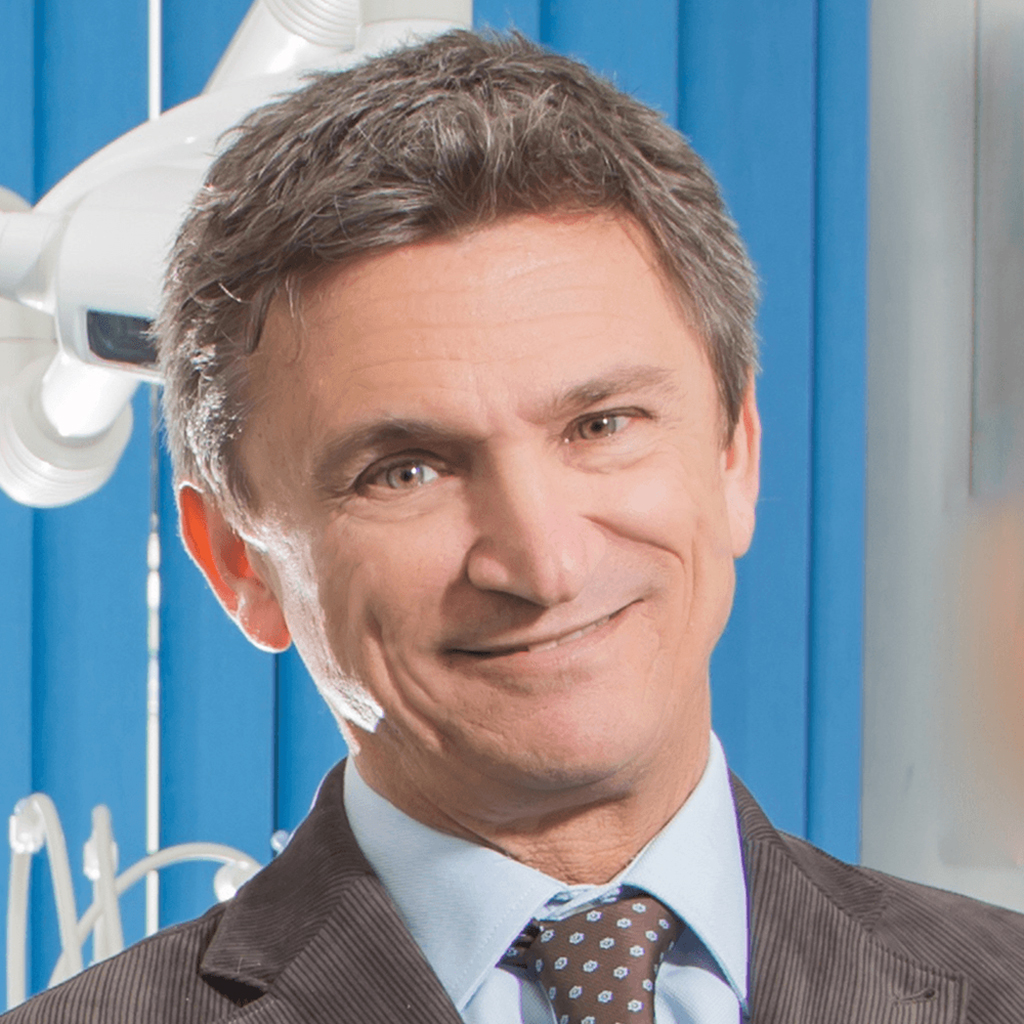 Fernando Zarone is a full professor of Prosthodontics, Dental Materials / Prosthetic and Lab Technologies and Implant Prosthodontics and head of the ward of Prosthodontics at the Dept. of Neurosciences, Reproductive and Odontostomatological sciences, in the University "Federico II" of Naples (Italy). DDS Scientific Committee member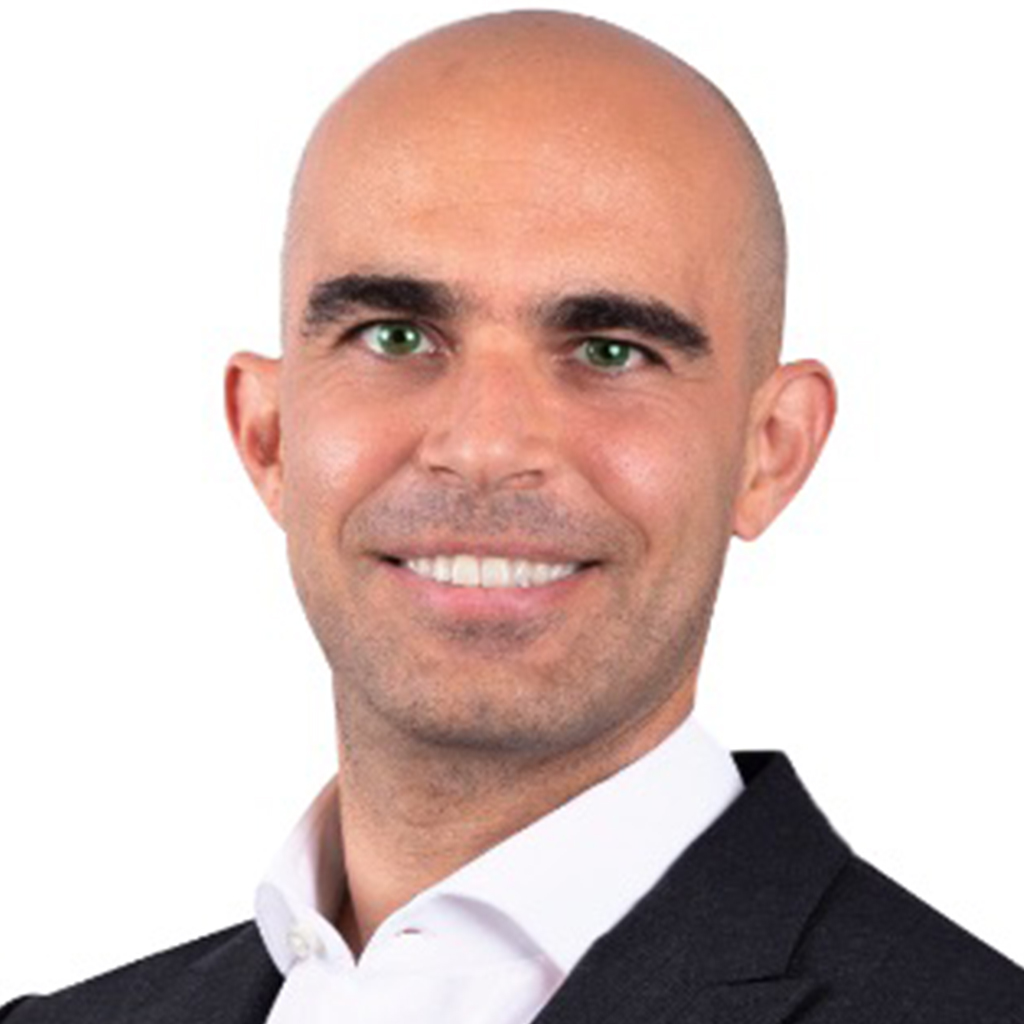 DDS in 2004 University of Florence. MSC in oral surgery in 2007 University of Florence. Visiting professor at Master of Endodontics at Second University of Naples in 2016. ESE certified member (2018). Private practice limited to micro- endodontics in Naples and Florence.
Approfondisci con i
VIDEO TUTORIAL
Vuoi avere maggiori informazioni su FALKO?
Siamo a tua completa disposizione! Compila il form e ti ricontatteremo, senza impegno, entro le prossime 48h.